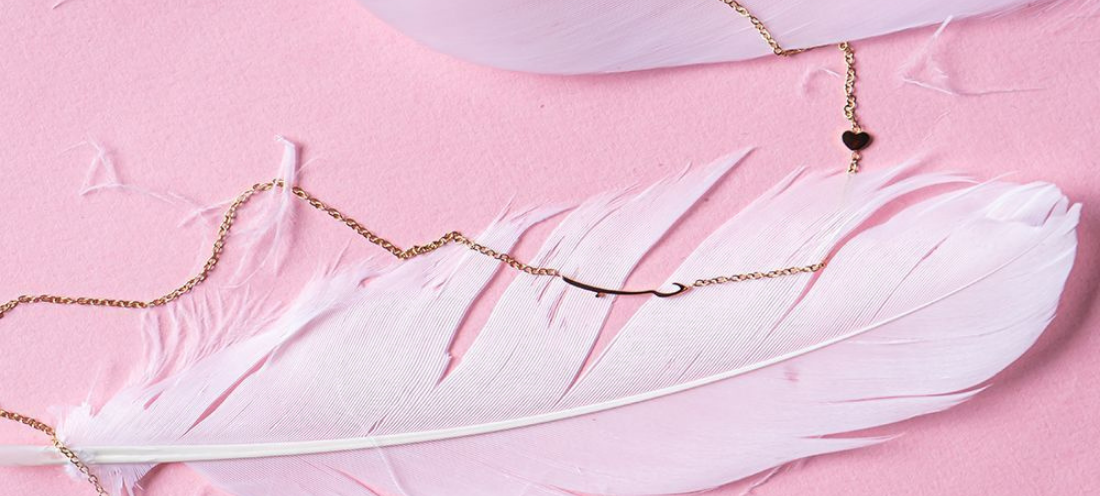 Best Gold Necklaces for Women to Wear Every Day
Get the scoop on everyday necklaces trends from local designers.
When we say necklaces to wear every day; we are talking about the piece you will not get tired of. In the same way, you will accessorize your neckline with a pendant that means something to you & says a lot about you.
Best everyday necklaces:
Fashion designers always tell us about the trends to come.

Therefore, we must punctually show you some delicate gold-plated necklaces you'll never want to take off. 
You should check our great selection of silver & gold necklaces.

For instance, stainless steel & aff

ordable pendants, initial necklaces and more

. 

Let your message of peace be shown all day, every day, by wearing this

gold-plated necklace

by Min Maadan Alensan with the Arabic word "Salam". It gives you a graceful and appealing look on your neckline. The letters are meticulously embodied and instantly grant a refined and contemporary silhouette for the perfect gaze.
Or keep wearing the necklace "Hub" which means "Love" as a reminder that LOVE is everywhere uniting everything. Because love is found behind everything beautiful, this pretty gold-plated necklace could be an excellent gift choice for your loved ones.

The beauty of the world lies in our diversity. It makes us strong when we find harmony to live as one nation.

The rose gold necklace

is very fashionable for an everyday outfit. It expresses your will to learn how to cherish the essential differences between human beings and their cultures.

Personalized jewelry like

initial name necklaces

have a special place for many people. Well, that continues as one of the major trends this year, which is good news especially with our Arabic calligraphy necklace, one of the prettiest jewelry for spring 2022. Check out the rose gold initial name pendant selection to wear your own initials or the initials of your loved ones.
College girl jewelry trends:
Everyone has a favorite in their necklace jewelry

, but

let's be honest:

college girls are always so stylish & trendy, they love to wear that sophisticated & attractive pendant.

Track down the next collections, you will find your favorite chain among these necklaces.

The good word is always the key to the hearts, it comforts & unites souls, It can do magic and possesses people's minds and feelings. This gold-plated necklace represents a good tree that produces good fruits, wear it & tell the world "the good deed is never lost". 
Accessory-lovers need to get this necklace to be on the top of jewelry trends. For sure you will get

as many compliments & good words!
'Moreover, the

Double necklaces

fashion is going strong into 2022. To add a modern touch to your outfit get "Yudabbir alamr" necklace that is made up of a chain of beads. 
A

dd more glamour of an extra piece to your necklaces like bracelets or rings. Some

bangles from the newest jewelry trends with this collection will look great on your hand.

Gold necklaces & bracelets are the pieces of jewelry that never go wrong. It can suit any occasion & dress or style, hence get gold jewelry if you want to stay on the safe side.
Because t

here is always beauty behind bravery and determination despite the difficulties we face.

Sprinkle some beauty of blossom after the odds on your wrists with this bracelet by Min Maadan Alensan. 
As well as

adjustable bracelets

which have a

resizable

band to settle perfectly on your wrist.

The thread is very durable and can withstand daily wear.

It will also create a ravishing contrast of colors & help you wear it easily without fear of rusting or breaking.
The charms are made up of silver or they are gold plated. It represents good values like previous necklaces such as good intention, cooperation and excellence.

Check this modern collection of

the most popular type of bangle right now.

S

tones bracelets

can be a good match with casual necklaces, so we invite you to select from our meaningful collection of semi-precious stone bracelets. But you must be wondering if semi-precious stones are worth buying? 
The main difference between precious and semi-precious stones is that there are only four precious stones. They are diamond, ruby, emerald, and sapphire. Any other gemstone is supposed to be semi-precious.
Adjustable gold-plated ring:

Gold rings

with engraved Arabic words would be your best ring to rotate from year to year. To push you always to remember to represent the good within you through your words and actions

by fostering love, spreading happiness to every passerby, and living in constant gratitude.

 
An adjustable ring is a piece of jewelry that's designed to allow one to change the size of its band or finger. It's a great gift idea for someone who doesn't know the ring's exact size. And t

he gold color will make a perfect match with any other gold necklaces for everyday outfits.
How To Protect Your Favorite Jewelry From Tarnishing!! 
You might have noticed some of your gold-plated necklaces got rusty after some time. Jewelry can remain new & bright for years if you know how to protect it from tarnish & rust.

  Store it right:
Gold-plated necklaces can last about two years, but you can add more life to your jewelry by storing it in a closed box to prevent exposure to moisture or oxygen. Moreover, you should separate your jewelry, to keep them organized, untangled & safe.
Costume jewelry should be kept away to prevent any communication that leads to tarnishing. So Keeping each type like gold necklaces or costume ones distinct from others is the best way to store jewelry. 
  Keep jewelry dry :
The easiest way to rust your necklace is to moisture it or spray perfumes because the metals will tarnish over time. So the best way to protect your jewelry is to keep it dry. 
For that reason, you should avoid contact with some products. They will cause the gold to wear down off from necklaces or rings such as; perfumes, shampoo or lotions. 
And if you need to moisturize your skin you better put lotion before your jewelry. Then again, don't wear jewelry while showering, it

can reduce the shin

e even for solid gold necklaces.
  Get jewelry protectant spray :
Covering your favorite necklaces with protectant sprays can save the gold from fading. Besides, it protects your skin from reactions to costume jewelry, such as itching and rashes.
  Use nail polish:
If you don't have the spray,

nail polish

can be a more affordable alternative. Coat your jewelry with clear nail polish to give your jewels defensive protection. 
You will need to reapply it regularly since it may fade off. However, the polish was recommended by many people to create more barriers between skin, jewelry.  
The necklace is one of the most desirable pieces of jewelry for many women if not all. Despite the variety in the designs, it adds a lot of femininity & elegance. Hope you find what you were searching for between those lines to wear the piece that unleashes your

charisma.