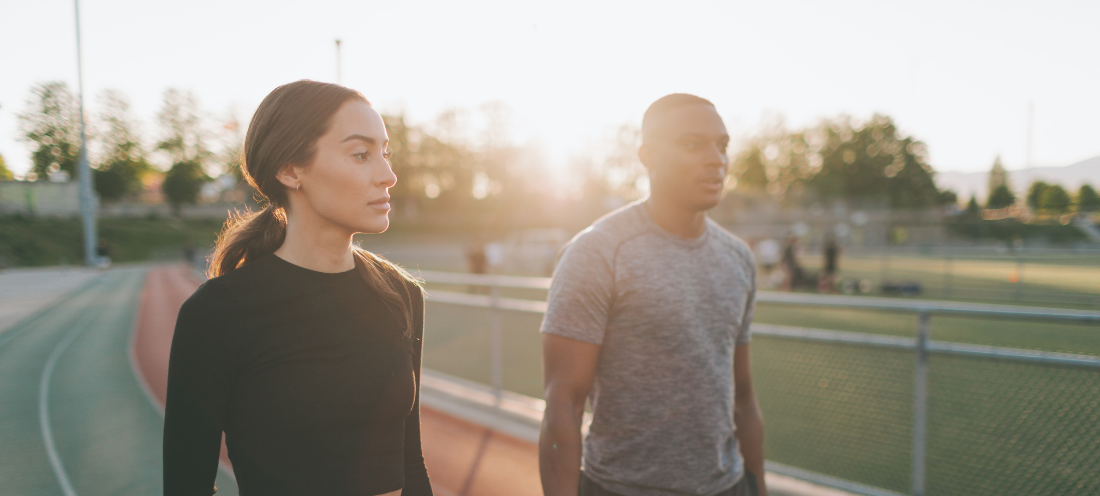 Do Workout Clothes Make a difference?
Sport is more than an activity to build your muscles, it is one of the keys that help you lead a healthy lifestyle. Keeping active through workouts has a big role in protecting the body and decreasing the risk of many diseases.
In addition to the fact that a workout builds a healthy routine that boosts your metabolism & increases the muscle-to-fat ratio. It has many more benefits that contribute to the development of a healthy mind and lifestyle. Exercise can completely change your mood because when you work out, your body produces endorphins.
Moreover, research has shown that mental toughness is associated with better athletic performance. For that reason, the body needs to be prepared well for any physical activity, to be comfortable and do an effective workout. So, wearing workout clothes before participating in any form of sport is one of these preparations.
Many of us might think that workout clothes are simply a matching outfit for working out, but it is not.

Sportswear

is a necessity to do any kind of training and workout. Good quality workout clothes can improve your performance in many ways. For example, helping your body cool down after strenuous activity.
As you exercise hard, your body will react and cool down via sweating, but unfortunately, this might break off your workout if you're not wearing the good fabric. On the other hand, when your body remains dry, your workout will be consistent and effective.
If you are planning to go for a walk or run outdoors, then make sure to bring your sportwear. Consequently, the stable & resistant workout clothes is the best way to enjoy your regular walk. It will provide you with the necessary protection, also you will avoid any distribution that may prevent you from keeping up with it.
Good quality and well-designed workout clothes should feel like skin, ensuring you don't feel restricted while training. Yet, you're right, the price could range from affordable to expensive, but sometimes you should buy quality instead of saving much.
To get the most out of your workout, wear your sports shoes. Because sports shoes are one of the most essential workout clothes, it is worn not only at the gym but also as every day & informal wear. It is comfortable and practical for work or when standing for many hours. We all know that feeling of fatigue after working for a few hours, right shoes could help you work without getting tired!
Moreover, wearing the appropriate workout shoes for specific sports activities can do more than improve comfort and performance, it can prevent injuries as well.
Speaking of shoes, top brands' designers have made a lot of sports shoes depending on the need & many aspects like the foot shape. For Example, running shoes, football shoes, tennis shoes & hiking shoes.
The right shoes for walking or running must give you the impression of a better feel for the ground during light hikes & running. Just like the Nike "Air Max shoes" that are made with new technology, or the Adidas sneakers, they are simple yet have their unique design.
Hiking shoes provide flexibility of movement, they are designed to provide the protect & comfort to your feet. They can minimize the risks of foot injury on rough, steep, slippery, wet, or muddy ground.
1. Cotton workout clothes
People choose cotton over other fabrics because of the many advantages they can get.  It's comfortable, easy to wear and wash, inexpensive, and breathable. Also, it can absorb sweat during the exercise like many fabrics, and has better odor management compared to other workout clothes fabrics.
2- Polyester workout clothes
Polyester cloth is almost used in making all types of fabrics and hundreds of categories of clothing. Including all types of workout clothing materials you will find polyester everywhere. It is a low-cost light fabric but at the same time strong and flexible one.
3- Microfiber workout clothes
Fabrics made of microfibers are generally multi-use, lightweight, resist wrinkling or pilling. Also, they have high efficiency in liquid absorption. All this makes it an excellent choice for athletes or for those who want to do any heavy physical activity.
4- Synthetic fiber for workout clothes
Synthetic fiber like nylon was originally used to make women's stockings. Nowadays, it is used in workout clothes manufacturing to make different kinds of activewear. Nylon is an incredibly durable, stretchy, quick-drying, and mildew-resistant fabric.
You know you can dress for success anywhere even at the gym. Recently, workout clothes have become one of the most popular fashion lines worldwide. All international brands of workout clothes like Adidas, Under Armor, Nike, Puma, and Reeboks made it clear that workout clothes can be trendy & voguish. This has made the competition very intense in making unique pieces to Keep up dressing fashionably and expressing yourself.  Each of the recognized fashion brands has its lines of very sporty collections for adults and children.
Biggest sportswear brands in the world:
Popular sports brands that design pieces which adhere to the outfit rules of quality workout clothes are: Adidas, Under Armor & Sketchers. The most known brands in workout clothes, that every wardrobe has one top or pair of shoes at least. Also Nike the champion brand builder is among the well-known brands if not at the top.
Many international brands have launched a fashion line representing the workout clothes as veil activewear. From

sports headscarves

to full-length swimsuits, there are now more modesty options for women to wear to enjoy working outdoors.
For many of us, this is just a common saying to encourage exercise by breaking the body's rigidity and lack of movement.
But this line describes a lifestyle to get a less stressful life. As we have said before, a regular workout can massively reduce the chances of developing many diseases, which may affect the mind such as dementia and depression.
Or diseases that affect the body, such as unbalanced blood sugar levels or high pH, can cause a large number of other problems for the body.
Because physical activity is the best way to keep your body healthy,

find the workout clothes

that meet your fitness level and needs!