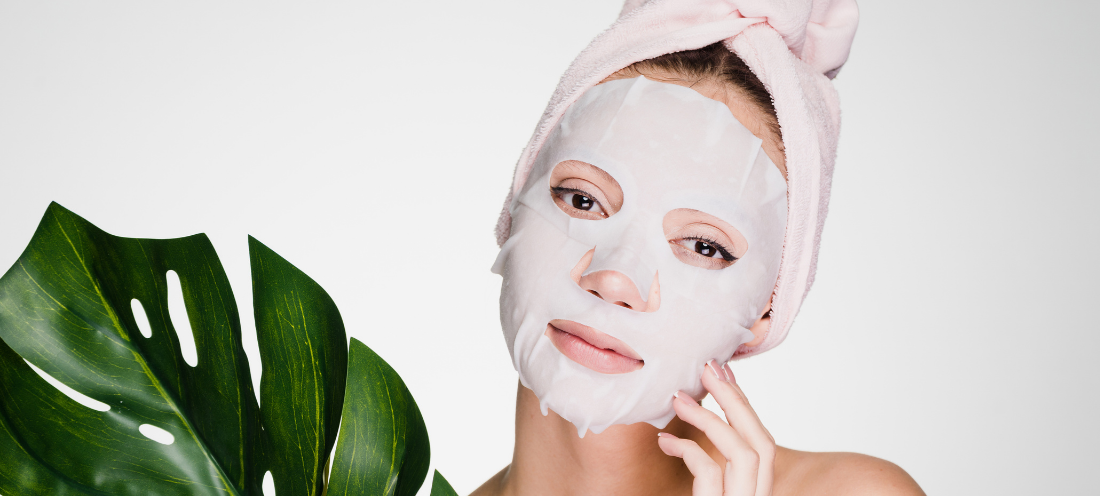 The Best Face Masks of All Time
A face mask is a perfect choice to pamper & relax your skin naturally before special occasions. So the chance to get flawless skin is high as long as you follow a weekly skincare routine. Masks for sure will give you an immediate result and a big boost for your skin as it includes various types of vitamins and moisturizing ingredients.
The best Face Mask Ingredients!
There are many effective

sheet masks

for all different skin types in the market, and the results of each type vary, depending on the ingredients. Picking one mask might be confusing because of the numerous options. If you opt to apply it at home to save your time, then get the sheet masks (or Korean face masks). So we have gathered the best face masks to keep your skin glowing:

Tomato Mask:

Tomatoes contain salicylic acid and beta-hydroxy acid, so tomatoes mask is good for oily skin & helps to:
● Removing acne because of the acid ability that reaches deep pores.
● Controls skin oils and pimples due to the natural astringent of pores.
● Unify skin tone, reduce irritation and the lycopene in it protects skin from sunlight.
Pomegranate Mask:

The pomegranate is not only a tasty fruit but it also contains antioxidants such as flavonoids and phenols which are good for dry skin. Moreover, it is rich in vitamins such as E & C, which aid the skin in:
● Exquisitely moisturizing dry and irritated skin.
● Treating scars and preventing acne.
● Prevent skin cancer.
Seaweed Mask:

Seaweed is a must-have mask as it is rich in amino acids, vitamins, minerals, and antioxidants that fight harmful substances in the body & the skin. Like all masks, it
also contributes to many benefits to the skin the following:
● Regulate the sebum production for dry and oily skin.
● Reduce cellulite on the body.
● The best way to treat fungal acne.
Broccoli Mask:

Broccoli is a natural remedy for your skin in fact it produces collagen, in addition to that it helps the skin in several ways including:
● Repair the skin and keep it healthy.
● Improve skin elasticity and reduce wrinkles.
● Treat skin diseases, such as skin cancer and shingles.
Hyaluronic acid mask:

According to dermatologists, the 20s is the best age to start using hyaluronic acid. The hyaluronic acid mask protects the upper layer of the skin as a result it assists to:
● Get high hydration.
● Form a layer that protects the skin & makes it less vulnerable to environmental factors.
● Acts as an antioxidant, it tightens the skin and prevents sagging and fine lines.
● Increase collagen levels in the connective tissues.
Avocado mask:

Avocado is an oil-rich fruit in monounsaturated fatty acids & omega-9 that have proven efficacy on dry skin. Hence here are some of the avocado mask benefits:
● Protect the skin from UV rays.
● Moisturize the skin and reduce aging signs.
● Enhance, unify and maintain skin tone.
Pumpkin mask:

Since pumpkin fruit contains fatty acids, zinc, selenium, vitamin K and A, it supports in:
● Regulating and balancing the secretion of oily skin and enhancing collagen production.
● Moisturizing the deep layers of the skin and reducing dark circles.
● Decreasing the appearance of acne.
Coconut mask:

Likewise, coconut water is your best choice to satisfy skin's thirst. It contains lauric acid, B vitamins, and essential minerals that are helpful for the freshness of all skin types, as well as:
● Coconut water acts as a natural toner to clean pores and reduce irritation.
● Regulating skin natural oils production.
● Fewer skin infections.
● Stimulation of skin cells growth because it is rich in cytokines protein.
Tea mask:

Green tea extracts mask is equally important as anti-aging agents in the world of cosmetics, because of high polyphenols and epigallocatechin gallate (EGCG) content, which have many benefits for the skin in reducing:
● Risk of getting skin cancer.
● Sebum that causes acne.
● Skin redness and irritation.
The aloe vera plant produces a cool soothing gel that has many benefits when it comes to skin problems. To sum up, the aloe vera mask helps:
● Fighting cold sores and treating burns.
● Anti eczema and psoriasis.
● Reducing dark circles around the eyes and preventing pigmentation.
● Lightly exfoliating the skin and delaying aging signs.
Uniquely, rice grain is one of the natural ingredients that help in fighting various skin problems including:
● Shrinking large pores and fighting acne.
● Boost collagen production & remove dead skin cells.
● Lighten dark circles around the eyes.

We're not quite done yet! There are still more Korean face masks, particularly

lemon mask

that contains ascorbic acid. Besides that, it is an antibacterial acid that can kill bacteria & prevent acne. On the other hand, the

cucumber mask

strengthens the connective tissues in the muscles, tendons, and skin too. Also, it is a powerful natural moisturizer for dry skin that treats psoriasis and eczema.
When should I use a face mask?
To clarify, It is preferred to use face masks 2-3 times a week. Like any skincare routine, you better apply your mask on clean skin in the morning but it is also fine to use at night if needed. Dermatologists think that sheet masks can be great for our skin if used regularly because it provides the right balance of skincare. Therefore,

check this link for more

Korean

face masks

.