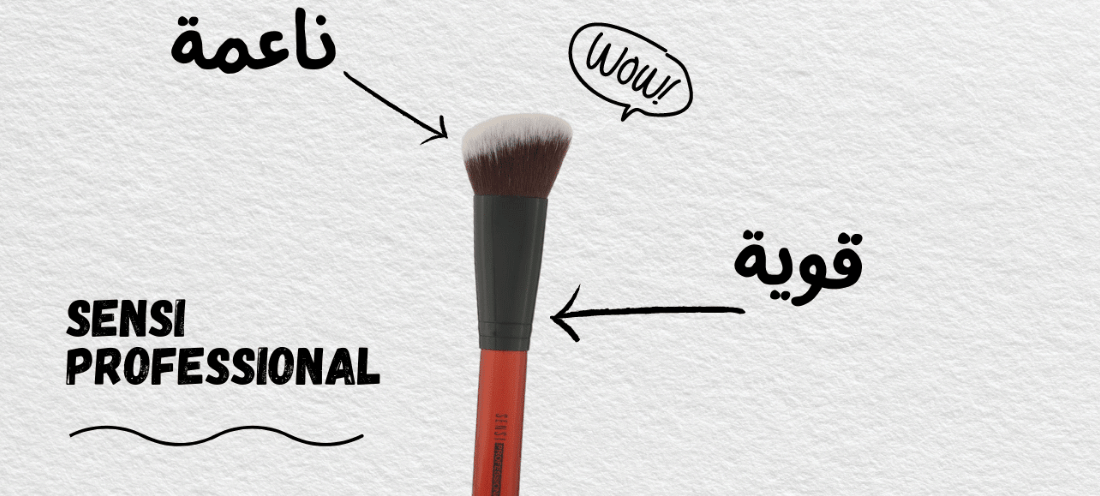 SENSI Professional Makeup Brushes Review
Professional Makeup artists agreed that good makeup brushes are important tools to help in wearing & applying makeup easily and smoothly. You must have been searching for the perfect set of brushes for scattering, blending and applying a variety of cosmetics as for creamy, liquid or powder products to sculpt your makeup nicely.
Scroll down to discover SENSI Professional Makeup brushes & say goodbye to all old brushes. SENSI cares about all small details of your makeup & ensures that you enjoy applying makeup with these good quality brushes. They are soft hair brushes yet durable for everyday use & when exposed to water or cleaning products.
Explore the brushes that you may need & understand the uses, you will find your guide according to the image, let's start:

1- This brush is used to scatter and blend powder on the body & large areas of the face.
2- For scattering & blending face powder.
3- To scatter and blend blusher.
4- For applying and blending liquid foundation.
7- Kabuki brush for applying and blending liquid foundation on face and body.
8- Bronzer and contour blending.
9- For concealer applying and blending.
10-

Kabuki brush

for eye foundation and liquid eye shadow.
14- Small concealer blush.
16- Small brush for blending eye inner edges.
17- Big edged brush for a winged eyeliner.
18- Angle eyebrow brush for thin delicate hairs.
19- Eyeliner brush for a thick lash line.
20- To smudge Kohl or eye pencil.
22- For shimmering eyeshadow.
23- For a delicate liquid eyeliner.
24- Lashes and eyebrows brush.
25- Two sides

eyebrow brush

for a firm brow look.
---
To make searching easier for you check

SENSI Professional brushes,

in a red leather kit

contains 26 tools; 25 different usage brushes & a sponge to apply powder.
For a sma

ller traveling size kit

check the complete brushes set from SENSI with an array of 6 brushes

that cover all needs including contouring, highlighting, foundation, blusher, concealer & eyeshadow.