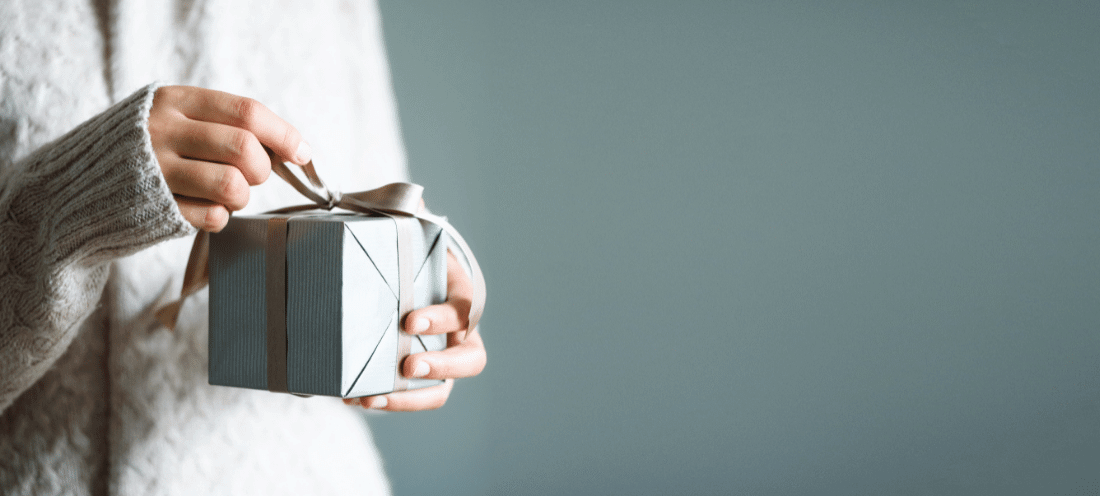 Best Ramadan Gifts for Everyone
One of the significant aspects people experience in Ramadan each year is family and friends' reunion. They reconnect to celebrate Ramadan's blessed nights & enjoy the pleasant moments together.
So why not make this gathering even more special with Ramadan gifts for your dear ones?
Ramadan month is known for its numberless surprises, many people aspire to give and receive presents as a regular and lovable tradition. They're keen on getting all kinds of presents and giving them in many ways.
If you're willing to share some Ramadan gifts with your beloved ones, allow us to help you. In this article, we will share with you the exciting experience of choosing & wrapping gifts.
Whatever the occasion, gift-giving is a social ritual that requires consideration yet the bead Subha is a no-fail Ramadan gift. It is  one of the most obtained items in Ramadan and a largely favorable accessory in all sizes, shapes and colors.
Especially the scented Subha which is made from 99 Lava beads to help preserve the scent for a longer time than average beads. As a result, they will get to enjoy the Ramadan gift & not only its unique shape but also its good scent during Ramadan.
Another option of Ramadan gifts is the precious Subha, a fabulous mix between precious stones and wood. All of which has a beautiful design with a total of 69 wooden beads + 30 precious stones like Indian Agate, Rhodonite stone, Yellow Jade,  Pearl, Aventurine,  and more.
Over time, more and more accessories has continued to grow as Ramadan gifts. Including the interestingly odd ones, which have a modern and cheerful touch like Beads Subha Bracelet that consist of 33 beads connected to a golden charm.
They are made from a strong rubber bracelet with 12 precious stones and 5 lava beads. These colored bracelets are not just an accessory to wear, but in fact, it's more than that.
The beads consist of a sequence of prayers and the number of rakaas of Sunan Rawatib, as shown in the picture. This Ramadan gift will make such a moment delightful and memorable to you and to the person who wears it.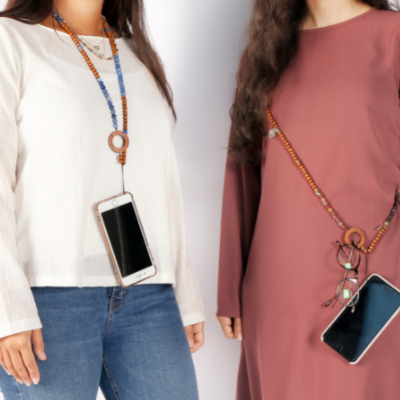 6
– Phone Holder for Ramadan
Beads phone holder will alleviate the burden of carrying your phone all time. it's rated as an extremely helpful tool for heavy smartphones users, so if you know a friend like that,  you have found a suitable Ramadan gift for them.
All-time valid gifts that have cheerful and encouraging phrases, that make this Ramadan gift even a stronger choice. It can make a good small gift or be added to other pieces in one box as well.
Or Subha Keyring of 10 semi-precious stones connected to a tarnish resistant
 & gold-plated ring, that help to use it daily & decorate your keys or bags.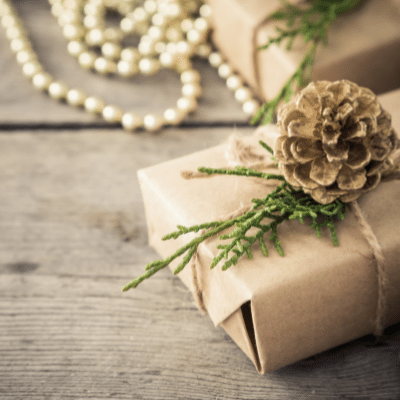 It's no secret that using paper, ranging from one single color to highly detailed printed texts, is the most common way of wrapping gifts. It may seem intuitive, but try to get creative when adding ribbons & flowers.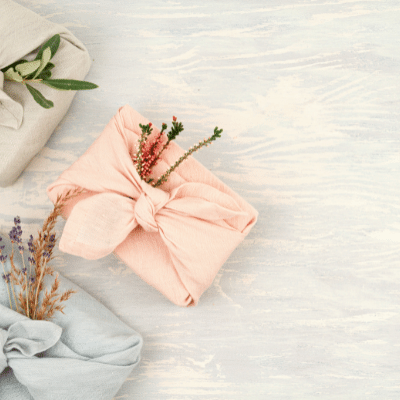 ⁎
Japanese style of gift wrapping
Japanese or furoshiki wrapping is all about using clothes to cover the gift. This technique still exists in Japanese and Korean cultures and is used among elders to carry foods and other stuff.
As for now, it's being introduced as a new form of wrapping gifts. So here is a quick guide for you to do: place the gift in the center of the diamond-shaped wrap. Pull two opposite corners around the gift, then tie the remaining corners together ( as in the image), then add your final touch.
No need to shape your own Ramadan gift box! Because we have it ready for you. Min Maadan Alensan printed Gift Box has all new and unique gifts inside. 
One of the Ramadan gifts that are well put together in one box. The packaging makes it a rare assembly gift & this would be the right solution if you're out of time.
a
cross all times and cultures, gifting was and still is a major way of disseminating kindness on a broad range around the world. More importantly, it shows and expresses how we truly feel about those who are close to our hearts. 
Therefore and due to its importance, choosing a good and suitable Ramadan gift isn't an easy thing to achieve. However, don't let this put you in a state of indecision, especially with the list of Ramadan gifts above.
Once you have an idea of what options lie ahead, based on your preferences and budget level, you will be able to find the perfect Ramadan gift.
Giving is an important part of Ramadan, Extend it beyond the friends & family circle. Makes the entire month of Ramadan a lot more meaningful & remember that nothing is too small to give!